Timber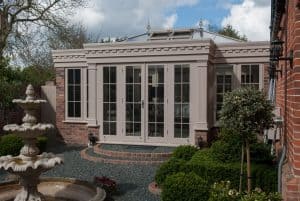 I have been selling Timber windows, doors and Conservatories since the 1980s but things have certainly changed in the last 35 years.
We ran our first joinery shop in Norwich, producing top quality Hardwood products in Utile and Brazilian Mahogany and mainly stained with micro porous paints.
I still offer these ranges but with the advent of Engineered hardwoods and with "Accoya" Technology becoming more and more popular we can now offer timber products that will not only look as only timber can, but boast all of the "A" Rated benefits you normally only associate with Upvc. Yes there is maintenance involved but far less than there ever was and with Accoya timbers you have the benefit of them being carbon negative throughout their life time, which is already twice that of most other timbers.
We offer a standard range of colours to cover most requirements but for those wanting something different, in timber you can have exactly what you want.
So for both Home improvement or new build projects, ask me about the ranges available and I am confident we have it covered ( pun intended )
Please click on the thumbnails below to see larger images.