Welcome
When you talk to me you get the best independent advice every time. For more than 40 years I have been supplying windows, doors, Conservatories, Fascias and cladding. 80% of my turnover comes by recommendation from delighted customers.
My standards of installation are the envy of the industry and the products and services I recommend are the best available at surprisingly competitive prices.
If you're looking for Upvc, Aluminium or Timber products, contact me and I will do my very best for you.
About Me & My Products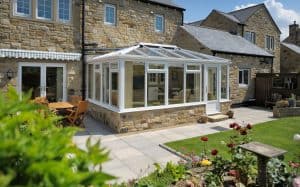 I was organising the installation of some of the first Upvc windows ever installed in the Uk and throughout the 1970s through to the present day I have maintained a belief that the best products, manufactured to the highest possible standards and installed by the best installers in the industry will always produce the best window, door and Conservatory installations in East Anglia. But don't just take my word for it, ask my customers…I do… and that's why more than 80% of my business this year will be from recommendations from highly satisfied customers.
So what about my products…
All profiles have a separate drainage chamber so that any moisture is taken away through the bottom of the window by concealed drainage ports, the multi chamber system enables the drainage to be effective without any contact with the reinforcing.
All products are sealed with double compression gaskets. Internal security glazing beads make glass removal from the outside virtually impossible.
The new F.E.N.S.A. rules will be complied with in every detail culminating in an approval certificate for your records. My quotation includes Planitherm Total Plus low emmissivity glass on all windows and adequate fire escapes in 1st floor habitable rooms.
All of my products confidently carry a full ten-year guarantee on all workmanship and materials. There are no unreasonable 'get out' clauses and the guarantee also covers the colour fastness of the frame as well as all furniture and sealed units.
Finally and of great importance is my standard of installation which is indeed the envy of the industry, I do not sub-contract our labour and all of my fitting crews are professionally trained and will treat your property with absolute respect.