Insulated Conservatory Roofs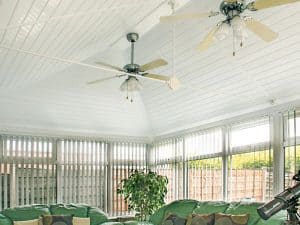 The latest advancement in insulated conservatory roof panels has produced another addition to our now comprehensive range of Conservatory Roof Upgrades. Based on the very latest 19 layered Superquilt system we are able to install a new internal ceiling to achieve an incredible all year around benefit. We can install a complete or partial installation so you can still, if you prefer allow some sunlight, bearing in mind that the more you cover the greater the benefit in heat saving in the winter and heat protection in the summer months. We then install an insulated Upvc Tongue and groove Upvc ceiling for a smart maintenance free finish.
The performance of this product is astounding, offering more than a 90% improvement over Polycarbonate and more than 80% upgrade on a glass roof. For a fraction of the price of a Tiled roof.
Installation is usually carried out in one day and as always we offer a ten year guarantee on this product.
For those of you that understand "U Values" the product boasts a performance of around 0.185 w/m2 which is very very impressive.
Please click on the thumbnails below to see larger images.