Conservatories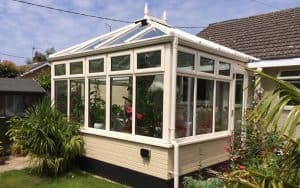 I offer a range of Conservatories to suit all styles at any budget, with a wide choice of different glazing options in the side frames and the roof.
You can choose how much or how little you wish me to do – I truly have all the options covered. I can quote for supply only (DIY), with or without building work or the full package, the choice is yours.
I can design a Conservatory or Sun room and superimpose it on to your home at the push of a few buttons on Martins Laptop.
The conservatories are built using a top of the range system with a 70mm front to back profile. The majority of uPVC systems are only 60mm deep, the extra profile depth not only produces a much more attractive window and door but also enables a far superior installation.
Far superior installation…..Lightweight solid tiled roofs have become popular in recent years and upgrades for existing conservatories now form a large part of my business, so whether you are starting from scratch or upgrading an older model I can advise you if this type of roof is your best option. Its not always suitable but when it is the right thing to do, it can work very well indeed.
I offer the best security package on the market
Including internally glazed frames, properly reinforced profiles and a range of security locking systems that are the envy of the industry.
Fully insulated basework for all year use
Combined with the extra insulation in the side frames and the roof this will be an all year round room.
Fully featured profile
For extra good looks, all of the profiles are moulded so there are no dirt traps or square edges that often give upvc windows an unnecessarily heavy appearance, this is also the reason that many reps no longer carry samples of full windows, so if you have been quoted for windows and doors without seeing a sample…ask yourself why?
Choose from Upvc, Aluminium or Timber.
Numerous B.S.I & B.B.A accreditations
Love them or not, you must accept that these certificates are very hard to obtain and therefore a good indicator of quality products and services
Planitherm Total Plus low emissivity glazing with Argon gas sealed units fitted as standard.
Installed only by my own trained installers
They will treat your property with respect and work cleanly and tidily at all times.
Free removal of all rubbish from site
I include a full ten year guarantee on all aspects of the installation
There are no "get out" clauses.
Please click on the thumbnails below to see larger images.