Thermotec Upgrade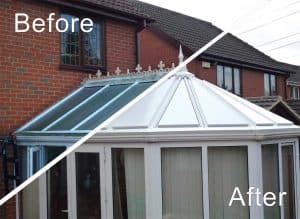 Insulated Conservatory Roof System
Reinforced insulation panels are installed into your existing roof structure, using the bars and ring beams from your existing Conservatory when possible. The thermotec roof panels are very highly insulated and strengthened with Poly powder finished aluminium sheeting in any colour you wish. They are fully fire proof and will quickly transform a Conservatory into a living area, from lounge to study or extra bedroom, you choose.
Thermal Panel Properties
Fully bonded panel with high strength to weight properties. CDC formed aluminium trays are bent to site specific measurements. Panels formed with welded corner joints to increase strength, then powder coated to preferred colour.
Most Polycarbonates have a "U" Value of around 2.0 Watts/M2. This represents the heat loss through a square metre area. Thermotec reduces that heat loss to an average of 0.29 Watts/M2 By my maths this means that an Upgraded Thermotec roof reduces heat loss by around 85%. Thermotec also obviously works wonders in the summer turning your conservatory into a useable room 52 weeks of the year.
For more technical reports please see the detailed Thermotec Data Sheet (PDF)
Please click on the thumbnails below to see larger images.